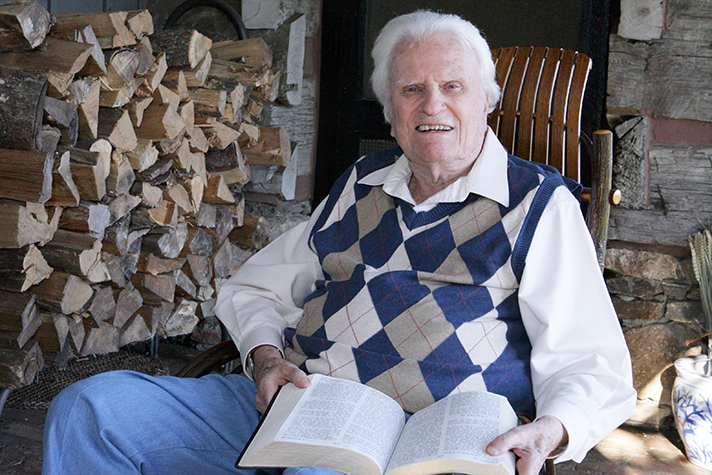 It's been a little over a year since Billy Graham left these shadowlands for his real home.  I met Billy many years ago in Jamaica. I've been thinking about that meeting:  When Dr. Graham first turned to see me, the first thing he saw was a long-haired, bearded fellow wearing yard-sale quality clothing and holding a beat up guitar that literally had flowers stuck in the tuners. His first response was a huge welcoming smile. I approached him and told him how much my grandparents appreciated him... and that they'd love a photo of the two of us. He exclaimed, "Well sure... let's do it!" We laughed and put our arms over each others' shoulders as my friend (Jesse) readied his camera.  Billy gave me a sweet message for my grandparents and then asked, "Hey, you want to get a photo with Johnny Cash?!"
I looked over and saw Mr. Cash standing there staring at me. He looked like he had severe jet lag and a headache, so I just said, "Thank you, Dr. Graham, but the photo with you is all I need." He laughed and offered me a warm hug as we offered each other warm goodbyes. Billy was such a genuinely humble man... but more than that, he was someone who really loved people. I was in no position to offer him anything... in fact, it would've been easy to just categorize me in some derogatory form, as I was oft-accustomed. But Dr. Graham served something greater... Someone greater... a calling of the soul that compelled him to first offer the gift of kindness.
I have long heard Dr. Graham criticized for preaching a simplistic message... one more suited for children than modern, enlightened adults.  In reply to the arrogance, "Billy had so much more than words... he lived out the message of Christ by embodying authentic childlike love!"  In a culture that has so coarsened over the past decades, wouldn't it be wonderful to have more "sermons" like this? In the streets I find myself, I seldom experience any greetings as warm and kind as that brief encounter with Dr. Graham. I'm sure Billy had lots of things to do at that moment... but simply loving his neighbor rose above all of these.
May God continue to bless Billy's work... and the work of all he touched. The Gospel message remains accessible to every child (young and old)... all who can still recognize one's own selfish heart... those who yearn for the One who can heal it... the One who gives Himself for all of us. Sure, it may be simplistic to assert that we owe everything to the handiwork of our Creator... One who really loves us... who shares our pains and joys... who runs to us to welcome us home... to be our Father and we His children... forever. This is Good News! It is also happens to be the Eternal Truth. And yet, in the prevailing culture... there is increasingly little room at the inn...
Hallelujah, there remains a bright star in the sky... still shining brightly!  For everyone, there are never any easy answers... but thankfully, there are simple ones!  There remains a Balm in Gilead... the reality that God is Love!  It is our to cherish... embrace... and share it in this dark, often lonely, place.  There is One still calling, "You are the salt of the earth! You are the light of the world!"
Like a young child from North Carolina, perhaps it is time to remember... time to believe... time to stand in a fallen world!  As Americans, let us again be about the work before us... our blessed opportunity and sacred responsibility... to be salt and light towards building the City on a Hill!  For Billy... and all the rest of us... this Shining City is built one brick of Love at a time.